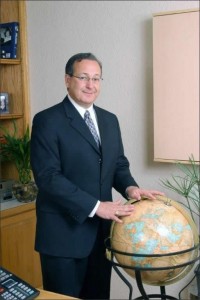 Luis Rodriguez, broker and owner of New Vision Property Management, has been a licensed real estate professional in Las Vegas for over 20 years. He was raised in Las Vegas and has lived here since 1964. He is a graduate of Clark High School's class of 1972. After graduating, he joined the Navy where he served for 4 years, 2 of which he spent stationed in Sasebo, Japan, from which he embarked on two tours of service in Vietnam.
He returned to Las Vegas in 1976. He attended UNLV from 1980-1983 and worked in the hotel food and beverage industry until 1989, when he became a real estate licensee. Throughout his career in real estate, Luis Rodriguez contributed to the Las Vegas community by helping many individuals and their families realize the dream of home ownership. With Spanish as his first language, he has been instrumental within the Hispanic community in the Las Vegas metropolitan area.
In the year 2000, be became a licensed real estate broker and founded New Vision Realty of Las Vegas. By the year 2003, he had also obtained his general contractor's license and expanded his field of expertise as a developer and property manager. Partnering with the North Las Vegas redevelopment agency, he built a small subdivision of entry-level homes that helped revitalize the community. In addition, he was involved as a developer of two large commercial projects. Having gained such diverse knowledge and expertise in the real estate field, Luis Rodriguez worked with several banks and their asset managers to handle REO properties. This included inspecting, acquiring bids, and refurbishing properties for the resale market. In 2009, he sold 53 REO properties.
For the current year 2013, Luis Rodriguez would like see New Vision Realty of Las Vegas, Inc., reach a standard of excellence in all facets of managing property, sales, and growth for his company.